St. Mary's entered one Key Stage 4 team and two Key Stage 3 teams to the Leeds Schools Dance Competition at Temple Moor High School.
Photo: Key Stage 4 Leeds Dance Champions
Left To Right:
Chloe Williams, Devon Mitchell Mccann, Alicia Wilson (Choreographer), Gabriella Vento and Freya-Poppy Bowden
Photo: one of our Key Stage 3 teams finished in third place
Photo: St. Mary's dance has considerable strength in depth - our other Key Stage 3 dance team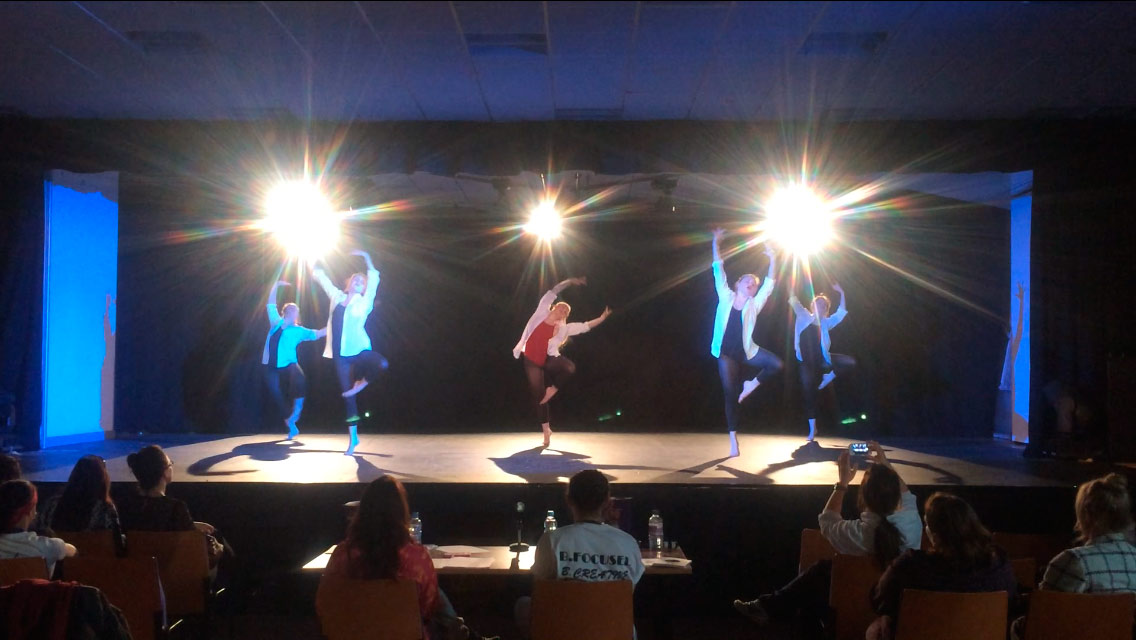 Photo: The Key Stage 4 team's winning stage
The annual competition, organised by the Leeds North West School Sport Partnership, has now been running for six years. Six schools performed and provided a diverse style of performances. The event was judged by Jo Parry, International Dance Presenter and May Bates, Dance Curriculum Leader at Leeds City College. Both judges were extremely impressed with the high standard from all the schools.
Our Key Stage 4 team were overall winners. The team consisted of Alicia Wilson (choreographer), Chloe Williams, Devon Mitchell McCann, Freya-Poppy Bowden and Gabriella Vento. Impressively, it was the second year running we have won the competition!

The Key Stage 3 dances were choreographed by Year 11 students Chloe Williams and Devon Mitchel McCann. One Key Stage 3 team came third - the team consisted of Libby Woffenden, Orla Turnbull, Martha Hudson, Lucy Hings, Abbie Cotton, Lily Humphreys, Hannah Chatwin, Rhianne Shaw, Charlotte Pickstone and Emilia Corkery. The other Key Stage 3 team narrowly missed out on being placed.