Niamh Howley, Tia George and Anthony Beckwith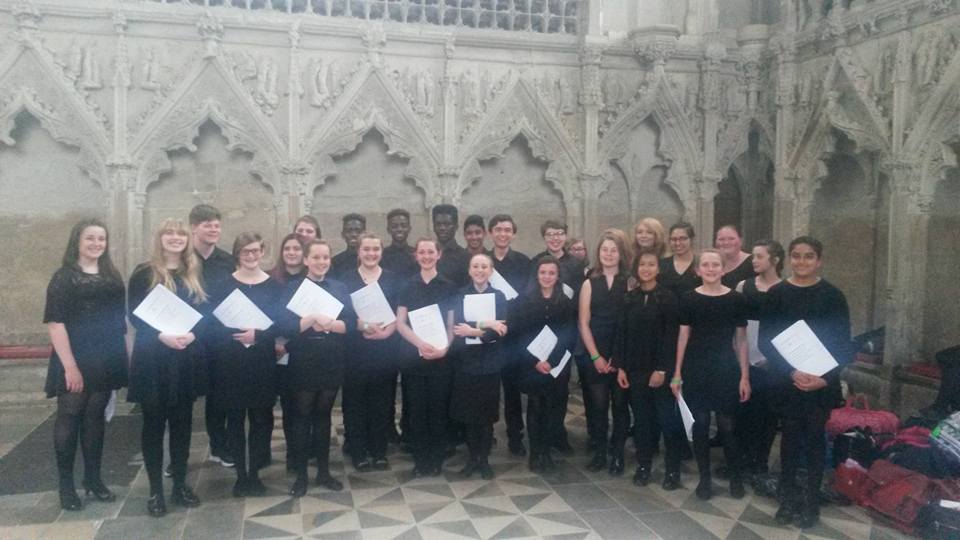 Three pupils from St. Mary's Menston, all members of Bradford Catholic Youth Choir, took part in the internationally renowned Gabrieli Consort's youth choir programme, Gabrieli Roar, in Cambridge last weekend. BCYC, together with another five of the UK's finest young choirs, joined the prestigious scheme in September and have already performed in London with the Gabrielis. Last weekend they visited Cambridge, rehearsing under the direction of consort director and Grammy-nominated conductor Paul McCreesh, singing alongside the consort's elite professional singers.
This culminated in a spectacular concert on Monday 3 July in Ely Cathedral as part of the Cambridge Summer Music Festival. Members of BCYC then stayed for an extra day, visiting Cambridge, taking in the sights of the University and singing in the famous Chapel of King's College, punting on the River Cam, and visiting Downing College to sing in the chapel before lunch in the college's hall, a tour of the college and some well-deserved free time!
This comes at the end of a year including two national BBC broadcasts and a performance of Mahler's 8th Symphony in Leeds Town Hall with the Orchestra of Opera North. The choirs have also sung for a number of Masses in Bradford and Keighley and given a termly concert. Their summer concert is at St. Bede's and St. Joseph's Catholic College, Cunliffe Road, Bradford, BD8 7AP on Sunday 10 July at 3.30pm.
For more information about the choir please visit dioceseofleedsmusic.org.uk